I have a cough and a cold. I followed a recipe for home-made cough mixture. Cider vinegar, honey, ginger, cinnamon, Cayenne pepper. Potent, and rather delicious to someone who enjoys the tastes of vinegar and spices and sweetness. It evokes childhood memories of the silky black-brown Galloway's cough syrup.
These remedies smell nice and feel like they are doing good. I have no evidence that they are more effective than cheaper and simpler alternatives. Honey and lemon and ginger is good, or just gargling with salt water.
My home-made cough mixture is a light muddy brown and I can see the spice particles floating around in the small ramekin dish. Perhaps if I add black treacle and put it in a dark glass medicine bottle, like Galloway's, it would have a stronger placebo effect and appear more valuable.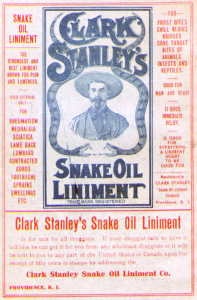 Sellers of Snake Oil long ago touted their concoctions as effective remedies for anything, presumably asking a fortune for each little bottle, until the term became a by-word for a scam. We do not look kindly upon scammers.
Recently I noticed a file named "snakeoil" on my computer. My suspicions were raised at first sight, but it is not a virus. It is a digital certificate created by the operating system. Let's take a quick look at digital certificates and why this one is so named.